Church Pews
We are proud to present The Marshall Company products. Marshall is a family owned business that has been manufacturing solid hardwood church furnishings since 1936. It is currently owned and operated by Mike Stoneman and has been under his management for over 20 years. The company is debt-free and has a Triple A rating with Dun and Bradstreet, the highest rating possible.

The Marshall family has taken great pride in owning and operating one of the few companies remaining in the country that can still make quality solid oak pews with no chipboard cores and no plastic laminates. They believe chipboard cores are inferior to solid oak. They know from experience that veneers peel and look "weathered" after a few years. They also know that it costs real dollars down the road to give a "facelift" to that veneer - a cost that can be substantial.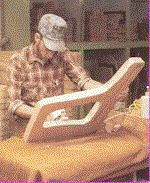 The woods chosen are solid hardwoods like Northern Red Oak and require notarized certificates of origin. The pews are produced using stringent quality control measures for every step of the process, including 24-hour humidity control in both the warehouse and the factory. They even subject their finished woods to boiling water for 3 minutes, and to direct sunlight at a 90 degree angle for a minimum of 24 hours!
Marshall not only intends for their products to last the life of the building, they intend for them to remain beautiful too. That is why they are so meticulous about every detail of the process. The filler used to seal the wood is a hand-rubbed paste that is worked into the pours to provide a smooth, durable foundation for the silky finish on the pews that is truly unsurpassed in the market. The fabrics are meticulously steamed, stretched and evenly distributed over the cushions to ensure there is no wrinkling or shifting of the material after the "honeymoon is over" so to speak.
Marshall doesn't ask you to take their word for it either, they encourage you to look at their work "in the field." They have furnished hundreds of churches throughout the western United States and have plenty of installations for you to examine. The pews will tell their own story of how they will stand the test of time without sagging, chipping, peeling or fading. They will unquestionably maintain their beauty and quality for years to come, providing an enduring testimony of the work of the Marshall family: a work they take very seriously and present sincerely - as unto the Lord.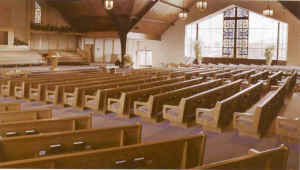 Sleek hand-crafted pew ends make the final product look spectacular! This pew end is called the "Anniversary Edition" and is destined to become a classic. But we have many more pew end styles to choose from.